Hunge Winter Experience
All-In package
From Monday 12 December 2022 to Saturday 25 March 2023 we offer you the 6-day Hunge Winter Experience. Enjoy all-inclusive adventures like snowmobile-tours, dog-sled tours, ice-fishing, evening torchlight hikes, outdoor meals and fika's. On your return, you can relax and sit down at the big table and enjoy a meal together. Who knows, you might even spot the magical Northern Lights. On your day off, you can also enjoy cross-country if you want. We are in the process of putting together the all-in package. If you are interested, please contact us by email or telephone to discuss the possibilities.
Ice fishing
Ice fishing is also called winter fishing. After a walk across the lake, or by snowmobile taxi, you drill holes in the ice, and use a simple short rod to fish. Never done it before? Or don't you like fishing in general? Then note that ice fishing is something completely different. It's fun, exciting, and preparing your own caught fish on an open fire creates pure joy. An experience you will never forget.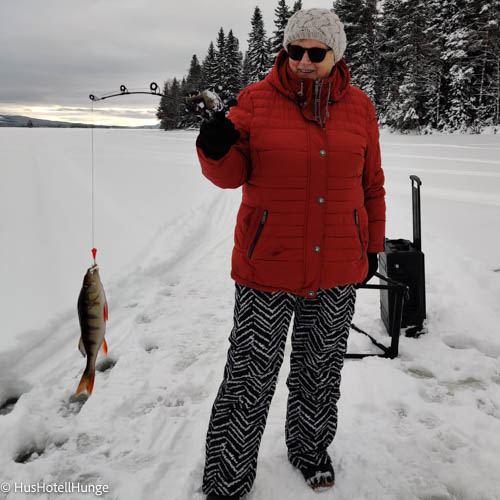 Snowmobile trip
Before you take your place on the scooter, you will receive a short briefing. The vast frozen lake is the ideal starting point for an unforgettable snowmobile trip. On your own, or as a couple, you can tour the magical white lake and through the fairy tale style forests. A great experience for everyone who can sit for around two hours, with a break between, and who can move along with the driver. So even senior adults can enjoy this amazing adventure. If you prefer to drive your own snowmobile, then you need a driving license category B.
Dog Sled Tour
You will be greeted by barking, almost whining huskies. They are very happy and want to go out together with you and your guide. You enjoy the trip sitting quietly and can see the most beautiful surroundings. Have a chat with your guide! He can tell you everything about the huskies and the surroundings. Of course, a fika is also part of the experience. You can warm yourself up with a hot drink and grilled sausages, while the huskies take a breather in the snow. And of course don't forget to cuddle them. As soon as they realize that the trip will be continued, they get restless and can't wait to leave. Another activity for all ages that will never be forgotten.Dog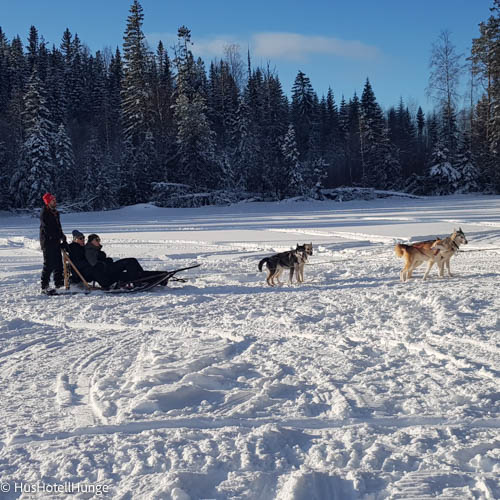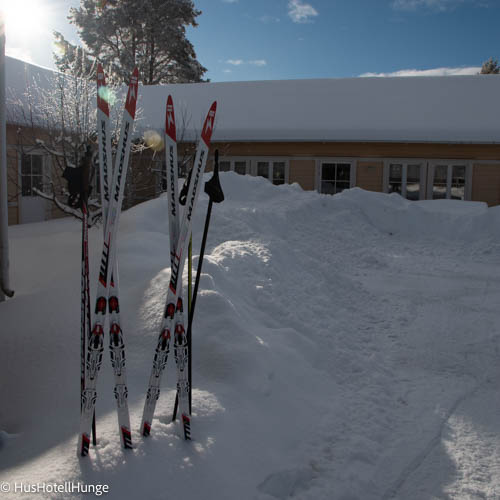 Cross-country skiing
Between all the exciting activities, take a rest day or… take your chance to go cross-country skiing. If you have your own equipment with you, you can of course cross-country ski whenever you want. We can also arrange to hire skis for you. Hire of cross-country skis is not included in the all-in package, prices are on request. From HusHotell Hunge you can start directly with a route of about 5 kilometres, which takes you over the lake, through the woods and the village of Hunge. A beautiful route! And if you're only a beginner, you can of course always decide to turn around and take the same route back.
Witness the dazzling Northern Lights
The Northern Lights are one of the most incredible natural phenomena in the world, and northern Sweden is one of the best places to witness this iconic natural wonder. Streaks of green, red and purple dance across the night sky, creating a breath-taking spectacle that is both eerie and enchantingly beautiful. With a bit of luck, you can witness this yourself and remember the lights and your experience of them forever!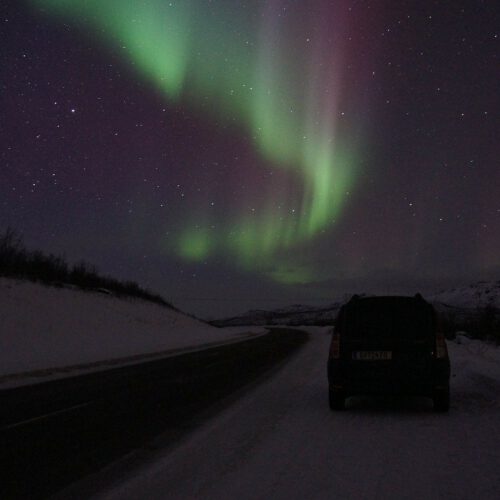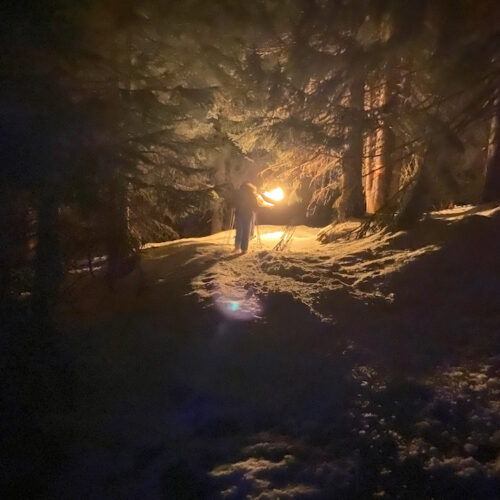 Torch hike
Go out together before going to bed. Walking across the lake with a torch and going through the forest. A beautiful and special experience, as cosy as it gets. Note that you may need special snowshoes.